Nothing in life is free...except for this week. Its that time of the year when Emo's throws its annual Free Week. There is alot of things going on because Emo's has some company this year. The entire Red River District is exploding with shows all over the place, so much that I can't figure out much of whats going on cause there is just to much to digest. I'm just going with the flow and I'll see whatever comes my way. Transmission Entertainment is hosting events at four different clubs so you have options this year.
Here is
Emo's
Line up: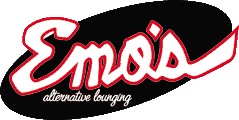 FreEmo's Returns (Free Week Line-Ups)
All shows are free for 21+ and $5 for under 21.
January 2 (Friday)
Outside: Lemurs / Ringo Deathstarr / Ovenbirds / The Boxing Lesson / The Great Nostalgic
Inside: Pataphysics / Silver Pines / JC and Co. (members of Belaire) / School Police
January 3 (Saturday)
Outside: What Made Milwaukee Famous / Oh No! Oh My! / The Pons / The Mercers / The Georgian Company
Inside: The Ugly Beats / The Jungle Rockers / Amplified Heat / Dans La Lune
January 4 (Sunday)
Outside: The Tunnels / Christian Bland (of The Black Angels) / Woven Bones / The Astronaut Suit / LEVIS (ELVIS Acoustic Set) / DJ Scorpio
Inside: The Always Already / Haunting Oboe Music / Prayer for Animals / j.be
January 5 (Monday)
Outside: Abby Birds / Stereo Is a Lie / Courses and Angles (ex-Gulf of Mexico & Mandon from Lil' Cap'n Travis) / Your Kisses Cause Crashes / New Roman Times
Inside: Zookeeper / Booher and the Turkeyz / Frank Smith / Masonic / Sad Accordions
January 6 (Tuesday)
Outside: The Bremen Riot (Mike Nicolai & Grand Champeen) / Moonlight Towers / Militant Babies / Gleeson
Inside: High Watt Crucifixers / Black Earth / Full Stride / Baby Dick (members of Fuckemos) / Yayo / Shitty Car Wash
January 7 (Wednesday)
Outside: Unit 21 / Iron Age / the Altars / Porkeria (members of B.S.A.)
Inside: When Dinosaurs Ruled The Earth / The Diagonals / Eagle Claw / My Education / Black Cock / Selenese
January 8 (Thursday)
Outside: Off With Their Heads / Broken Gold / Deskonocidos / Ghost Knife / Send Help
Inside: El Paso Hot Button / Harlem / Ume / The Blacks
January 9 (Friday)
Outside: Strange Boys / Special Guests / White White Lights / The Teeners / Man Stamps
Inside: ATTAK (iN)FORMATION / This Horn of Africa (ex-Animals of the Bible) / Bee V.S. Moth / Serious Tracers / Che Arthur
January 10 (Saturday)
Outside: Special Guests plus: DJ Remy Mac (Ramesh from Voxtrot) / The Black / International Waters / The Minotaurs (ex-Sound Team) / Corto Maltese / Cry Blood Apache / Bear Claw
Inside: Those Peabodys/ The Crack Pipes / Shapes Have Fangs / Red Leaves / Wine and Revolution / A Giant Dog
January 11 (Sunday)
The Service Industry (Industry Night- 50% Off all drinks with TABC card or pay stub)
Transmission Entertainment's
Lineup: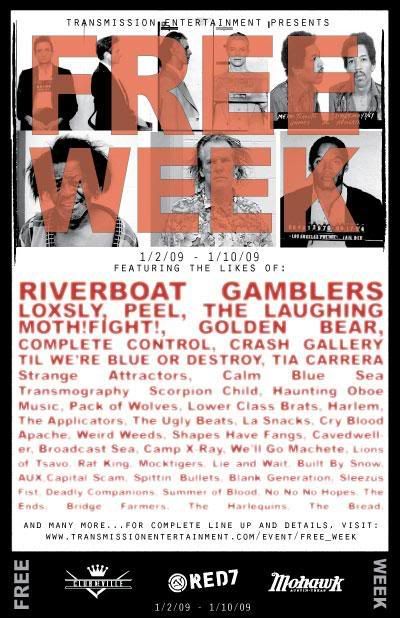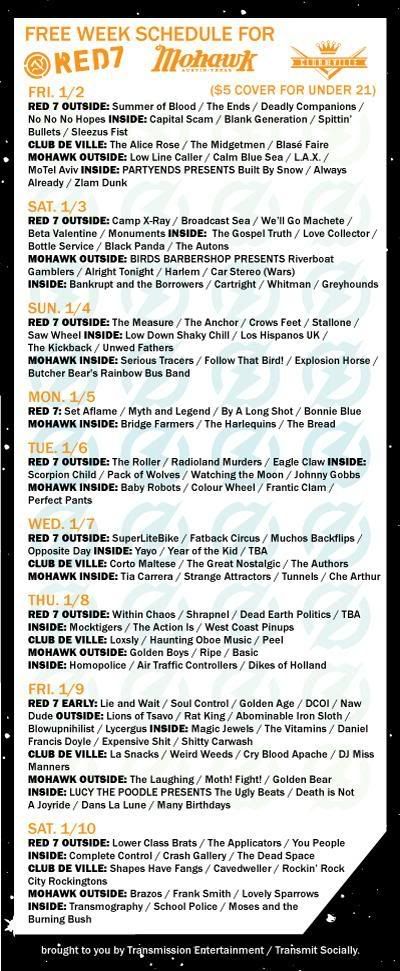 Okay, so not only is Free Week really breaking in the new year very nicely, but there are quite a few different things coming up this month. 101x radio station, which I dont listen to, is bringing some acts to the Parish. The acts are some pretty cool indie bands, Tapes 'n Tapes and Los Campesinos. 101x also just had a show at Emo's last month with the Ting Tings and Black Kids. I get the impression that they don't usually play this kinda of music, but maybe I should listen to station because I might be surprised(probably not).
I'm really really excited about this though; the
Learning Secrets
outfit is working with
DFA records
and Toyota to celebrate their 5th yr anniversary. Two parties will happen on sepearate weekends back to back. This is going to be the coolest things happening this month in my opinion, and I can't wait for the these free parties to happen. Juan Maclean will be DJing a week before the anniversary party which will have a member of the band Hercules and Love Affair DJing. I'm sure more surprises will blossom in the next couple of days or weeks.
Fyi-SXSW just put out its call for volunteers...So if your looking to volunteer this SXSW to save a little money, now is the time. Sign up now at http://volunteer.sxsw.com and attend one of the 2009 Volunteer Calls. Email volunter@sxsw for more info.
SXSW Volunterer Call 2009
:
Sunday, January 25th, 2:00pm-5:00pm
Monday, January 26th, 6:00pm-9:00pm
Hilton Hotel, 500 E4th St
Governor's Ballroom, 4th Floor