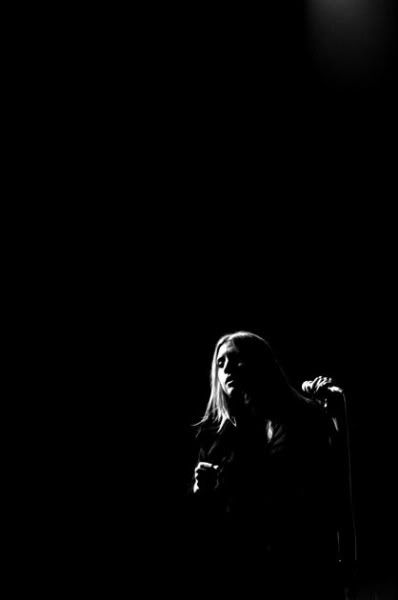 (Photo from Gorilla vs Bear, Lykke Li show in Dallas TX)
Lykke Li at Antone's 2/19/09:
Before I went to the Lykke Li show at Antones, my sister Linda went to the free in-store performance that Lykke Li did at Waterloo Records earlier in the day. Linda called me before I was about to head out downtown and said " Richard your gonna have such a great time" in an envious but positive tone. Unfortunately for sister, the show sold out and she couldn't buy a ticket a couple days before it. I felt bad, but I warned her well in advance that it had the potential to sell out. I was kinda of shocked I was able to buy my ticket when I did towards the end of January. So when Linda told that she had a great time at just some sort of promotional appearance, I got even more giddier then I was before.
I arrived at Antone's 20 minutes before the concert was scheduled to start at 9:00 pm. I got a cold tasty beverage from the bar and went to the side of the stage to get a decent spot because there was already good amount of people waiting in front of the stage. As I waited for Lykke Li to grace us with her presence, I bumped into a friend of a friend named Lydia. I went solo to the show and so did she, so it was nice to have someone to chat with while we waited for opening act Sarah Jaffe whom is from Denton TX.
Sarah Jaffe, eh, was good. I don't think I would go out of my way to see her again like at SXSW or anything, but she had a really pretty voice that accompanied the intimate acoustic vibe of her set. Some of her songs where pretty catchy, and she did try, towards the end of her performance, to get some crowd participation...something about holding hands or humming. I can't really remember, but I do remember Sarah Jaffe not having much of a stage presence, and being quite monotone when speaking to the audience. She kept saying how excited she was, but this was a little conflicting considering her reserved demeanor. So if your into soft acoustic sets or songs that S.P.E.L.L out the lyrics, then this might be your cup of coffee(shop rock).
When Lykke Li first came on, she started her set off smoothly with Dance Dance Dance. She had the energy of a red bull and trashed around the stage like a banshee. Towards the end of her set, she even got up close and personal with the front row by getting in the audience. Her voice was crisp, clean, and it didn't disappoint(me); reference the video below. She is cute, adorable, and quirky; she showed this by playing some covers, including Everyday I'm Hustlin'. During the show, I got the feeling that she was some what frustrated, maybe because she wasn't getting a responses from the Austin crowd she may have been getting in other cities. She said(not verbitim) a few times "this is our last show before we take a month long break, come on and make some noise!". I know for a fact, I was distracted because I was trying to take at least one decent picture half the show, so I wasn't screaming like a 14 year school girl, nor was I like the girl(not Lydia) next to me who seemed to know every song word for word(kinda of annoying since she was the only one singing...in my left ear). I was having a horrible time with my camera though. Out of 152 pictures, only hand full came out semi-presentable(I was the annoying guy constanly sticking his camera in the air, getting in your field of vision, and taking pictures every minute). Its a damm shame bout the pics...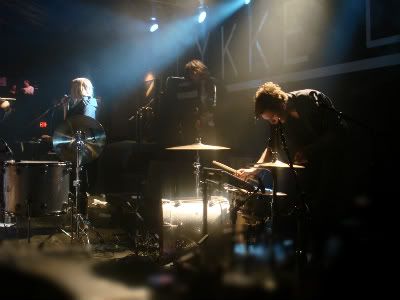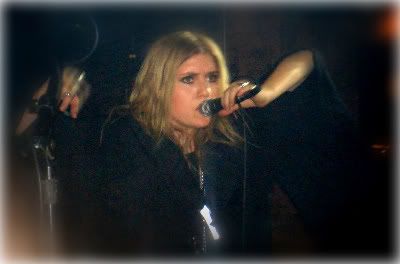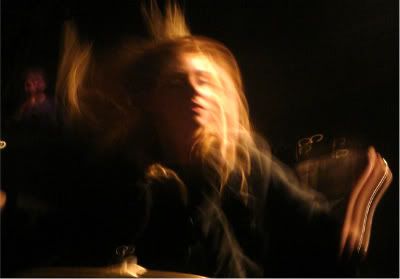 I would definitely see her again, and next time I'll scream, sing along, and take better pictures.
Thursday night continues...Wild Life 2 at the Parish. A quick recap: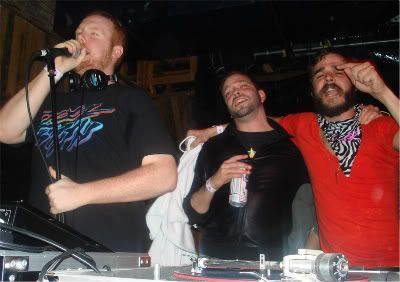 (Left to Right; Bird Peterson, Go Go Garcia, and Ryan Ulloa/Birthday Boy)
Wild Life 2 was a fun way to dance the night away after Lykke Li. It was a tag team event between eight different local deejays, in which all pitched in to support and make this a pretty cool free party at the Parish. Lots of Electro being spun that night, which I have no problem with because I heart it sooo much. I got to dance to some of Bird Peterson set who slipped in some Hip hop(which I can not dance to for some reason), and he then blended in a few Dubstep tunes which I was pleasantly surprised by. Much Thanks to David AKA Richard.Gear of
Alter of Bang
. and Josh aka Joshua Distance of
Robot Dance Music
for being such awesome host.

Philip Glass Weekend Regrets:
Over the Weekend there was a show I regret not going to at the UT Bass Hall.
Philip Glass
was in town Saturday February 21st. You may ask who the heck is Philip Glass, and others will say duh. For those who don't know him, he is one of the most popular modern day composers around. There are not that many of 'em round ya know. Per Wikipedia, early admirers of Philip Glass include, but not limited to, Brian Eno and David Bowie, and he has worked with such artist as Paul Simon, Mick Jagger, Leonard Cohen, David Byrne, Suzanne Vega, Natalie Merchant, and Aphex Twin.
I was so close to buying the $60 ticket, but I decided not to at the very last moment because I'm trying to maintain a strict self discipline when it comes to going to shows. I over did it last year with going out to concerts, so I'm trying to keep my sanity and avoid going broke by only going to 2 events a month. I had already reach that 2 show limit for the month of February before I found out about Glass's performance last week.
I am glad that I told a friend about it though. He took it upon himself to research Glass's work, and he made the decision to make the drive up from Victoria TX to see the performance, so a least someone I know went. He told me it was excellent, and the show consisted of operatic singers, two pianos(Glass on one), and some strings and horns like a cello and saxophone. The composition was put together around Glass's interpretation of Leonard Cohen's writings for the
Book of Longing
.
Speaking of
Leonard Cohen
...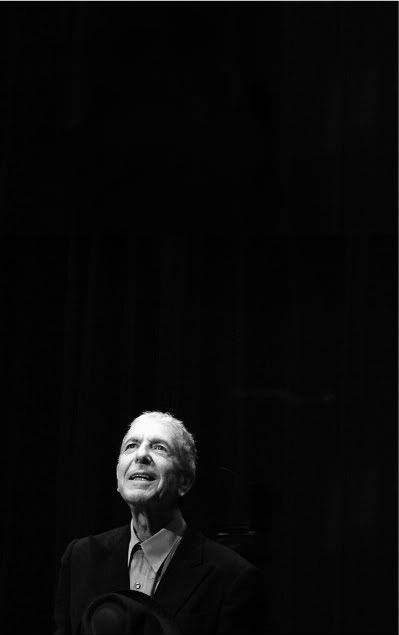 He too, has added tour dates and will start his US tour in Austin TX April 2 2009 at Long Centre. Tickets go on sale this Friday February 27th at 10am. The tickets are supposedly going for(price wise) any where from $80 to $500. Its pricey but the man hasn't toured in 15 years.
Two Artists...
In the moment.