So on Friday I went to see
Zombie Disco Squad(ZDS)
at Black and Tan. It was five dollars to see
Culnsweet
(a Dj slash art collective based out of Austin and Monterrey Mexico) and this Dj duo from the UK ZDS.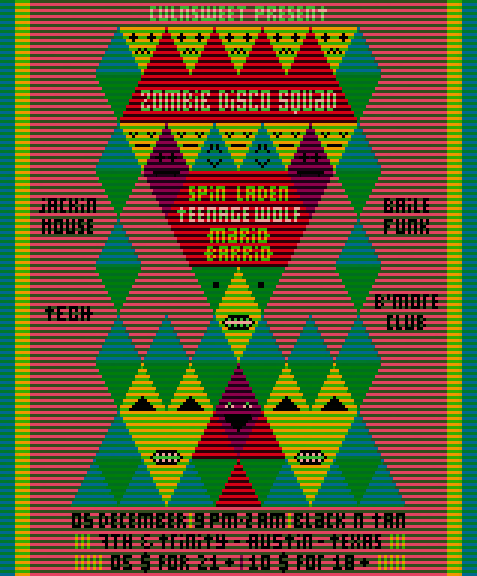 A couple of days before this shindig, I went to the ZDS myspace pg and noticed that they had nothing about touring in the States nor Austin TX for that matter. I messaged them, and they actually responded. Their email said their set had been canceled, and then right after that, I got a second conflicting email indicating it was still on. So I was confused and I didn't think they were going to show. So I just went anyway to have fun and dance with Culnsweet. At Black and Tan, I talked to Miguel who confirmed that only half of ZDS couldn't make it, and since it was only one of the guys, it wasn't an "official" show. Even though it wasn't offical, it so rocked, the music was just so bad ass. I haven't dance this much since The Disco Villains a couple of weeks back. It seems here lately when I go out, I just drink my self to oblivion and forget to dance. Thats what happened on Thursday. I woke up with the most god awful hangover, and this caused me to tone it down for the rest of the weekend.
So after ZDS, there was an afterparty at Music Gym which kept the dance party going til 4am in the morning for me.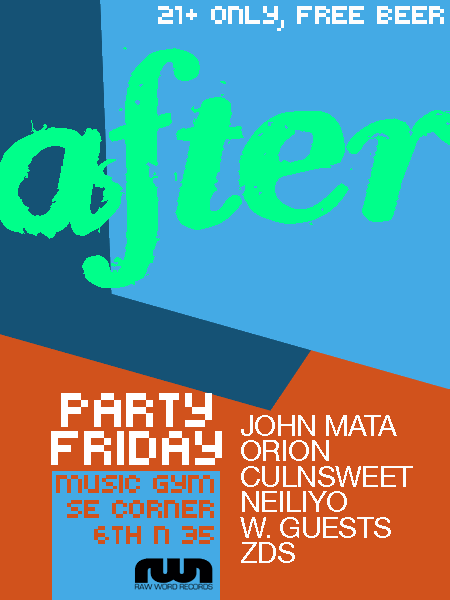 The Music Gym was doing something the entire night though. They had an old high school bud of mine by the name
Neiliyo
play before all the deejays took over. I checked out part of his set at the Music Gym, and he is crazy fun. I think him and Best Fwends should play a show together. Check out this random video I came across by Neiliyo:
Saturday night was a little bit more laid back then Friday and Thursday. I went to this
GoGear
event in which
Markus with a k
,
Zeale32
(or just Zeale), and
Hollywood Holt
took the stage at Light Bar. I've never been to the Light Bar, and I'll probable never go back because I just like the Red River Disct. The venue wasn't that bad, and it had a rooftop part where they had the show going on. The crowd size fluctuated between medium and small or intimate. Markus with a k was probably spinning before I got there. I didn't get to really catch his set though. Markus and Zeale collaborated for the night and it was a pretty tight set. Zeale is a really awesome local hip hop MC with some pretty sweet music to groove to. Hollywood Holt was insane and a character. He was high energy, and he was dancing and jumping around. He even did push ups or tried to fuck the dance floor. It was great and he made it all worth it. Look for him at SXSW'09. Hollywood's Dj was Dj Skylar. He threw down on the ones and twos to kill the night. At first he was spinning some music I wasn't into, but then he started throwing down some of the electro that I love so much. For your viewing pleasure here is two Hollywood Holt videos: