Last night I watched a program on PBS called Independent Lens. The episode was about the musical adaptation of a documentary by the name Grey Gardens. Grey Gardens is a film which is a cult classic. It was made in 1975, and it is about an eccentric and reclusive daughter and mother living in a dilapidated mansion.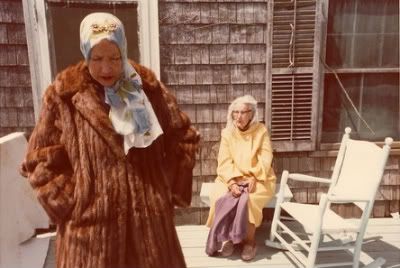 The spontaneous and spunky daughter, which has some very interesting fashion sense and claims to be a singer, is Edith "Little Edie" Bouvier Beale, and her elderly mother, who claims to be a dancer, is Edith "Big Edie" Ewing Bouvier Beale. They are descendants of the same aristocratic family as that of the First Lady Jacqueline Bouvier Kennedy Onassis, who of course was the wife of late John F. Kennedy.
The two Edies, in a sense, where considered outsiders and where ignored by their respectable family. The family fortune was not shared with them other then a small trust fund, which allowed them the privilege to acquire the property they lived on in East Hampton called Grey Gardens. The mansion they lived in on the property was consumed by this overgrowth of vegetation, and the internal surroundings of the house resembled the outside; clothing, trash, and debris littered the once prestigious interior, which was, not only occupied by these women, but also home to cats, raccoons, and a marble faun. The documentary is a raw look at these two very unreal women just being themselves in front of the camera. Interestingly enough, the film was transformed into a theatrical performance and musical.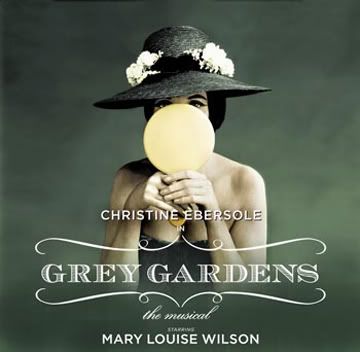 Eventually it gained enough support and positive reviews allowing it to move on to Broadway. On opening night of its Broadway performance, a New York Times critic from Chicago named Ben Brantley wrote a review about the musical. This respected critic is said to have the ability to close down Broadway shows but provided nothing but kudos for this Broadway musical adaptation of the film. Who knows, maybe it will make it to this area in theaters, but probably not unfortunately. I would highly recommend checking out the documentary if your into Tennessee Williams or John Waters. If your not into those individuals mentioned, I would still check it out for a truly different movie going experience.