A couple of days have pasted and the show is well done and over with. LCD Soundsystem is in route for Europe to tour the festivals overseas. The show was great! It will easily be at the top as one of the best shows this year for me. My favorite moments where when they played All My Friends and Someone Great. I was either in awe, dancing, or jumping up and down to the beat. I was drenched from my head to my shins in sweat after the show had ended. It was almost like I took a shower with my cloths on. Speaking of showers, it rained only once. I was pretty close to the stage, so the oval shaped canopy covered me from the one shower we got before the show even started.
The crowd was a mix. There where even some pre-teens, literally, they had to be between the ages of 10 and 13 yrs old. There where the usual college kids and people my age or older with grey hair. So it was a definite mixed crowd. There was a group of 4( 2 couples) next to me who where having a real hard time dealing with some rowdy college kids behind us. I usually just ignore someone who is bumping and dancing aggressively into me. I feel that's what happens when you are in the front at concerts. In the front row you will be pushed and bumped into, and you will get beer spilled on you along with smoke blown in your general vicinity. If you don't like it, go ahead and voice your position, but if there is no resolution to your personal conundrum, leave or move. That's how I see it. I usually will push back or just try to out dance someone...I'll just shrugged it off and I don't let it stop me from enjoying myself and the music. All I can say is, I had a smile 80% of time at the show.
This is Happening Tour 2010 set list:
-Us v Them
-Drunk Girls
-Yr City's A Sucker
-Pow Pow
-Daft Punk Is Playing At My House
-All My Friends
-I Can Change
-Tribulations
-Movement
-Yeah
Encore:
-Someone Great
-Losing My Edge
-New York, I Love You But You're Bringing Me Down
-Empire State of Mind (Jay-Z cover)
As you can see they played alot of songs from all their albums...


I wish they would have played from the new album:
-All I Want
-One Touch
-Dance Yourself Clean
-You Wanted A Hit
-Home
Have a listen to the new album. I'm not sure how long LCD Soundsystem will keep it up and available to stream/listen for free, but check it out:
http://www.lcdsoundsystem.com/thisishappening/
Looking at the set lists you'll see three songs from the new album that where played on this tour...Drunk Girls, Pow Pow, and I Can Change. Unfortunately Drunk Girls made the list, but I like the other two songs from the album called Pow Pow and I Can Change. Pow Pow has a Talking Heads sound with a spoken word lyrics and playful sounds. I Can Change is an amazing song and it was great to see the band play it live. It has a beautiful electronic sound and a nice catchy chorus. I Can Change makes up for Drunk Girls for sure. I also forgot to write on the last blog post that I also didn't like the song Daft Punk is Playing at My House...I kinda like it, but I did cringed when I heard it started to be played. The crowd was really into it, but I would have rather Get Innocuous be played in its place. I read somewhere someone else was also unhappy that LCD Soundsystem didn't play Get Innocuous. O'well, you gotta compromise sometimes and go along with the masses.
Pictures of LCD Soundsystem from the show via my iphone: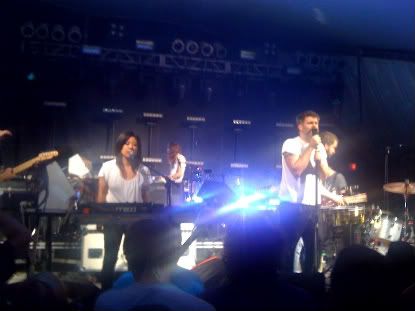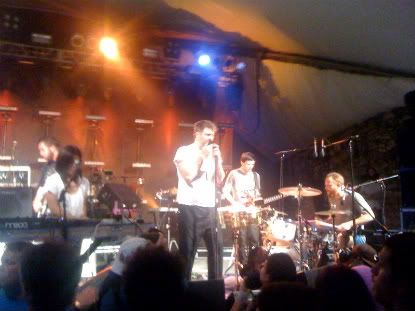 A side note about the show is the opening act, Holy Ghost!...Now I've seen Holy Ghost! twice, and I wasn't expecting much except a pretty good deejay set to get me in the mood to dance. I was wrong. I had been hearing songs on blogs by Holy Ghost! that where really rocking like Say My Name, but it was a full band, not just two DJs. There set was really good. I can't wait to see more of them. They will be touring again or opening up for Chromeo at STUBB'S in August or something. Really shocking and rocking set by em. Here's a pic for proof it's just not DJs:
After the show, the party switched venues to Beauty Bar two blocks over on 7th street and Red River.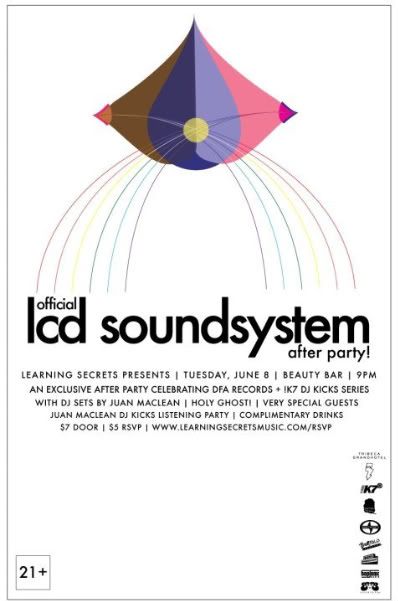 I was a sweaty mess so I wanted to go home to change into some dry threads to keep up with the kids. As I flew by Beauty Bar on my shitty bicycle, Donut( kinda like a donut tire on a car), I notice there was a horded line to get in to the after party. I figured two things, it would sellout and I wouldn't get in; or by the time it took me to get changed( so fresh , so clean), there wouldn't be a line and I'd get in. Well, I got in without a wait. I somehow was able to muster up the energy to continue dancing. For heaven sake, I danced on the same dance floor as Mr Murphy himself as Juan Maclean deejayed. Great way to end the night.