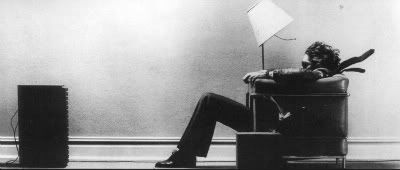 Wow, I really need to update this blog. One whole year, oops. Damn and I'm lazy! Lots have happened since the last SXSW '09 post. A brief rundown of random life events for the last year:
-
May '09
: Moved into a house in East central Austin.
It was so close to the Red River night life and only a two minute drive to Downtown. It was so great while it lasted. A pretty funky mold problem in the house was the culprit that caused me to move. Side note- I missed'em in '07 but I finally saw Glass Candy live for the first time in May '09. It was tops.
-
July '09
: Jumped on the bandwagon and started using facebook more then Myspace. No one was on Myspace. What can I say, I held out as long as I could but I had no choice. I still use Myspace occasionally though. Everybody probably uses something else now other then facebook like Twitter, who knows.
-
August '09
: Went to see Blondie and Pat Benatar live in concert back to back. Blondie was definitely not as hawt as she was back in the day, but I thoroughly enjoyed the show. Pat Benatar really rocked it though! I wanna see Jon Jett next. I hear Billy Idol is touring this summer, so keep your eyes peeled.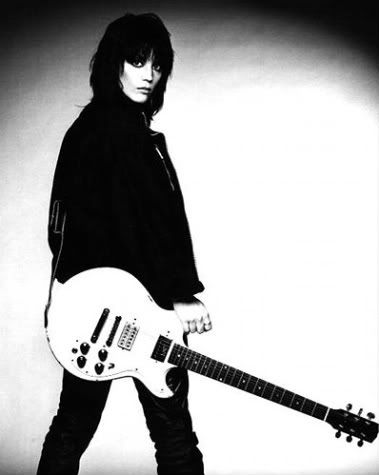 -
September '09
: Traveled to Ecuador South America. I traveled to Quito, the Amazon Jungle, and four of the Galapagos twelve islands while on holiday. At one point during my 3 week trip, when I was in the jungle, I was covered in hundred of small leeches. I was so freaked out that I shaved my head and my gorgeous beard. It's a situation I will never forget. Sheer terror.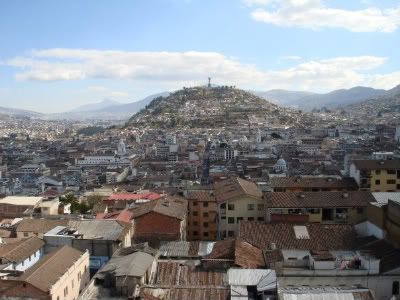 Above Pic is a picture of the Historic disct in Quito, Ecuador. Below is two Tortoise fighting on Floreana island in the Galapagos.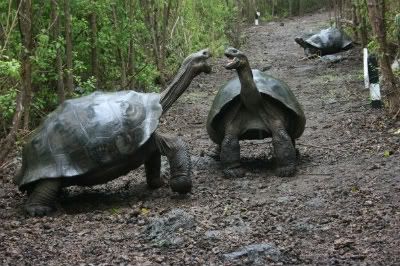 -
October '09
: Traveled through the Southwest from Austin to Marfa Tx, Big Bend Tx, and fianlly White Sands New Mexico. My round trip distance was the same distance as driving from the border of Texas and Mexico to the Border of the US and Canada. ABBA's Greatest Hits(stuck on repeat) was what got me through the 11 hour drives.
Both pics are of Donald Judd's, 15 untitled restored works in concrete, 1980-1984 in Marfa Tx, the main reason for the wild wild West trip.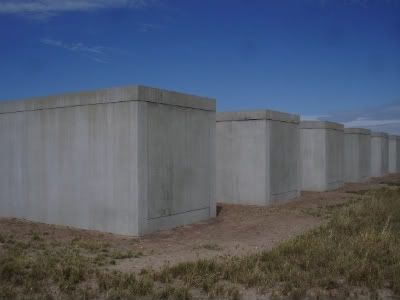 -
January '10
: Moved to West central Austin.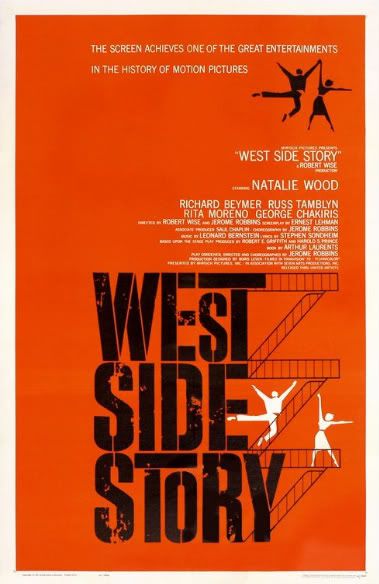 I'm keeping it central cause that's the only way to live here in Central Texas. I now live close to Zilker Park where Austin City Limits music fest takes place. I'm definitely going all three days to take advantage of the prime location.
-
March '10
: South by Southwest music conference 2010. This year I just did nothing but free parties and shows. I saw Glass Candy, Gwar, Maria and the Diamonds, Neon Indian, and Dengue Fever to name a few. Missed a lot, saw a lot.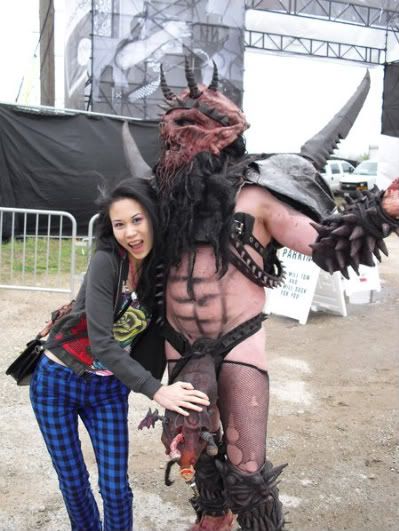 Jen with the lead singer of Gwar outside Fader Fort in Austin Tx for SXSW'10.
So there...the blog is updated and I will now( hopefully) update this thing a little more frequently.